MSIG Asia continues its contribution towards biodiversity conservation efforts by investing in the next generation of environmental conservationists
The general insurer's support goes to Conservation International Asia-Pacific's ongoing internship programme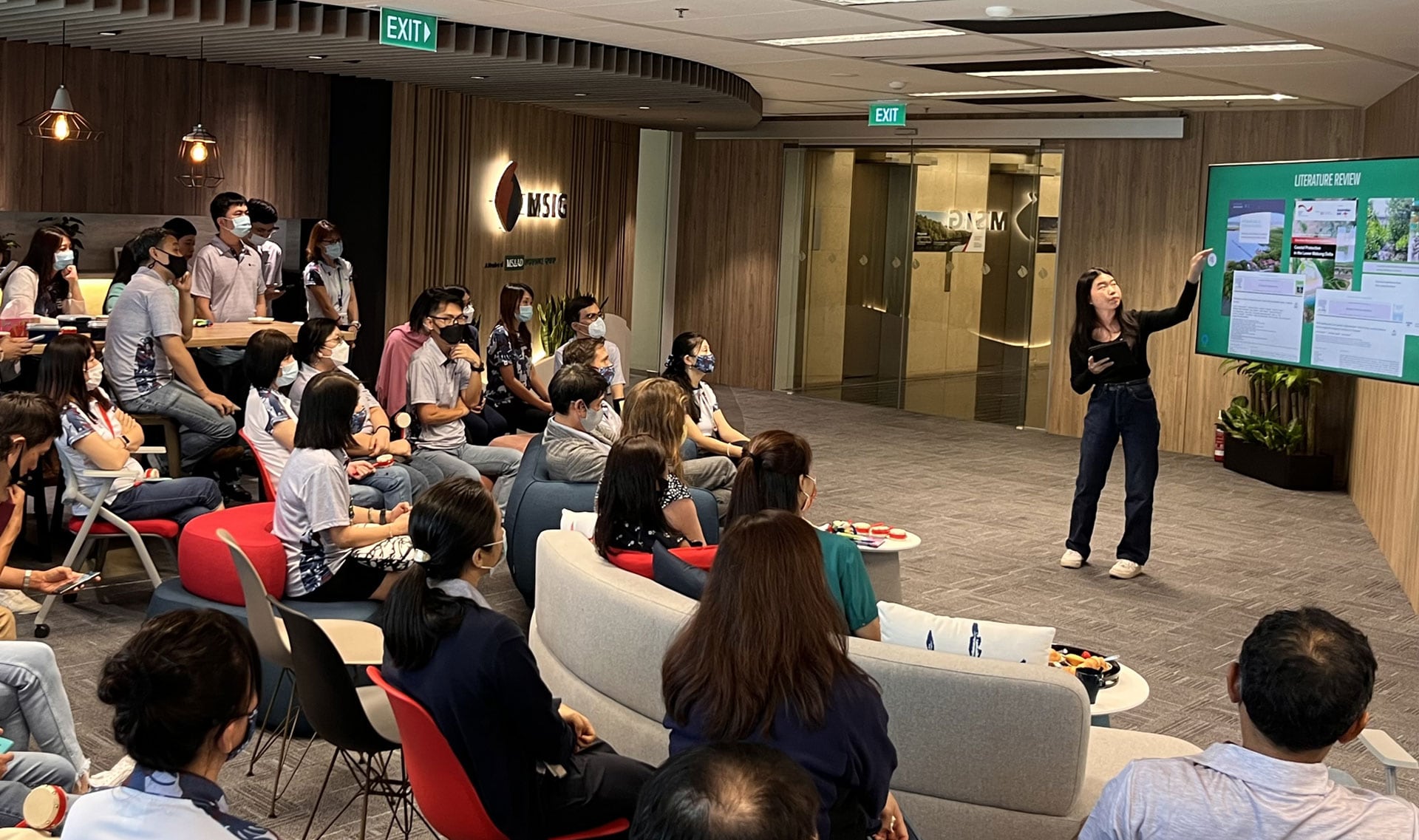 Above: Environmental Earth Systems Science undergraduate Kelly Ong sharing with MSIG employees her experience and learnings gained through Conservation International's university internship programme, for which MSIG Asia is supporting.
MSIG Asia today announces it is continuing its contribution towards biodiversity conservation efforts in the region by supporting Conservation International Asia-Pacific's ("CIAP") ongoing internship programme in Singapore. The immersive programme is designed to provide students with the opportunity to experience conservation work as they explore their interests in the field.
Speaking at the general insurer's employee engagement session, one of the programme's interns, NTU third year Environmental Earth Systems Science undergraduate, Kelly Ong, shared her experience and learnings gained from her internship:
"As an intern at Conservation International, I was part of the New Caledonia marine conservation team and our goal was to install sediment traps along the coast to reduce sediment runoff into the coastal waters. This was important as excess sediment run-off reduces the amount of sunlight available to corals and sea grasses. Through the project, we aimed to safeguard New Caledonia's reef ecosystems and the livelihoods of the coastal communities. I am grateful that MSIG is supporting the Conservation International internship programme which enables youths to get a head-start on their conservation career, enabling us to build a better and greener future."
In response to Kelly's sharing, Clemens Philippi, CEO of MSIG Asia, says: "We are delighted to be given the opportunity to work with CIAP to support the learning experience of the next generation of environmental conservationists. I'm glad that through the programme's immersive curriculum, interns like Kelly could further hone their skills as they explore their passion for nature." 
To mark the new commitment, MSIG Asia also took the opportunity today to unveil a collection of 12 limited-edition nature-inspired fine art prints, which it recently purchased to commemorate the opening of its refurbished office. With 100% of the proceeds going to CIAP for their environmental conservation efforts, the collection was commissioned with the aim to spread awareness of the importance of nature and what individuals can do to protect it. Every piece of work in the series, aptly titled 12-Artists-1-Cause, is dedicated by renowned artists and photographers including Steven Dews, Staffan Widstrand, Deboarh Azzopardi, Wink Gaines, Lucy Francis, the late Peter Adams and more.