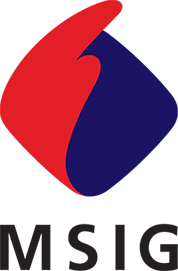 For over 100 years, MSIG has been Asia's leading general insurance brand. With our wealth of experience and commitment to this region, we are able to leverage on our multi-channel distribution, strong partnerships with intermediaries and extensive geographical network to offer a wide range of insurance solutions across personal and commercial lines. We are one of the few foreign-based general insurers to have representation in every ASEAN country, and are also present in Australia, New Zealand, Hong Kong, China, Korea, India and Taiwan, with over 10,600 employees. 
Located in Singapore, MSIG Asia is the regional holding company and a wholly owned subsidiary of Mitsui Sumitomo Insurance Company, Limited - an established insurer with strong financial ratings, including from Standard & Poor's and Moody's. MSIG is a member of MS&AD Insurance Group – one of the top 5 largest general insurance groups in the world*.
*2019 Fortune Global 500, Property & Casualty Insurance Category
About Mitsui Sumitomo Insurance Company, Limited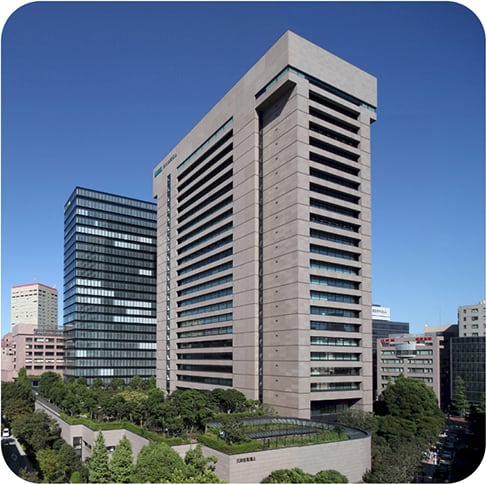 Mitsui Sumitomo Insurance was formed in October 2001 through a merger between the former Mitsui Marine & Fire Insurance Co., Ltd. (Mitsui Marine) and the former The Sumitomo Marine & Fire Insurance Co., Ltd. (Sumitomo Marine). Mitsui Marine and Sumitomo Marine were leading non-life insurance companies boasting long histories, having been established in 1918 and 1893, respectively.
Corporate profile, history and brand aspiration
About MS&AD Insurance Group Holdings, Inc

MS&AD Insurance Group was formed in April 2010 from the business integration of Mitsui Sumitomo Insurance Group Holdings, Inc., Aioi Insurance Co., Ltd., and Nissay Dowa General Insurance Co., Ltd. 
MS&AD Insurance Group is committed to achieving sustainable growth and to enhancing enterprise value through the creation of a world-leading insurance and financial services group with global operations.
 
MS&AD Holding's continued growth is driven by five business domains: domestic (Japanese) non-life insurance, domestic (Japanese) life insurance, overseas business, financial services business and risk-related business.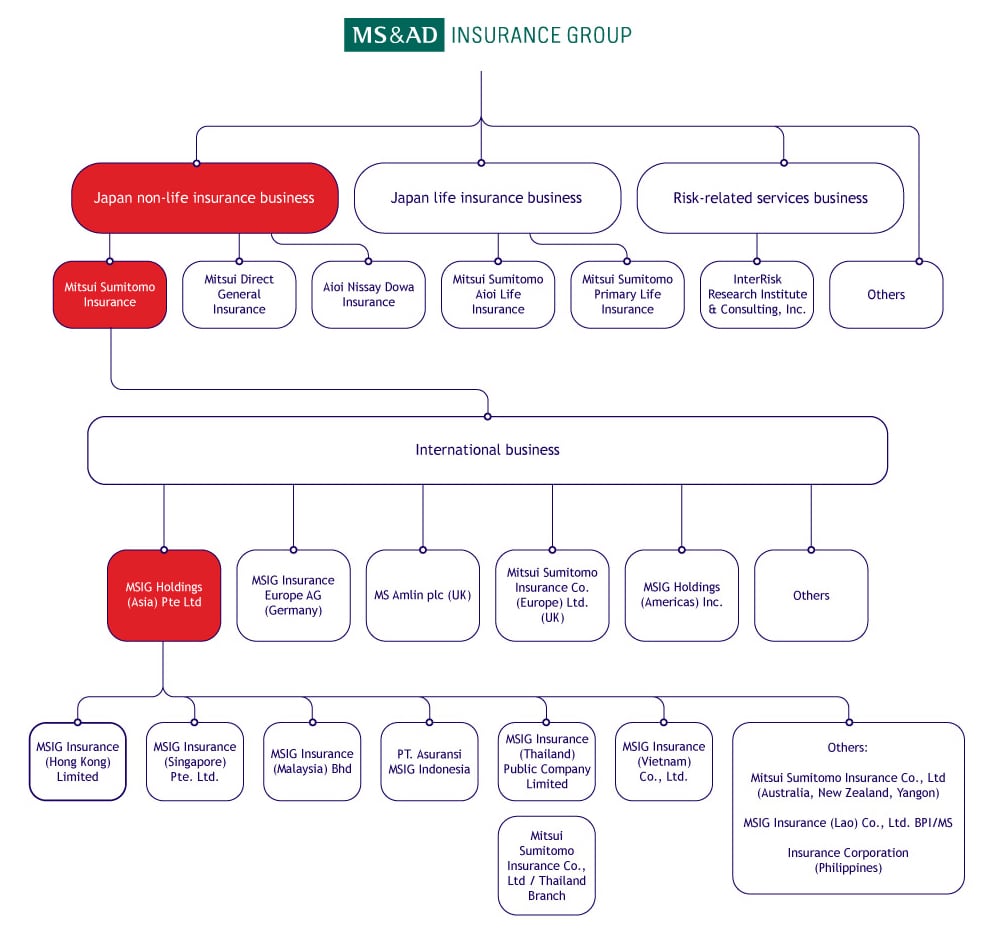 Mitsui Sumitomo Insurance was established in 2001 but our origins go back much further. "Mitsui" and "Sumitomo" were each formed more than 300 years ago and are still operating as business management groups with major influence in Japan and the rest of the world.
An enduring philosophy
Mitsui and Sumitomo achieved sustainable development over the long term by responsibly fulfilling their obligations to care for society and the environment, thus earning the trust of their many and varied stakeholders, including customers, employees and communities. This is the philosophy that still guides Mitsui Sumitomo Insurance today.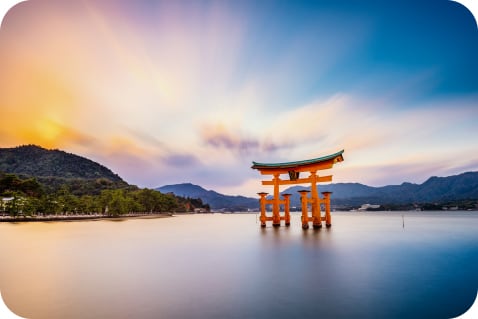 The origins of Mitsui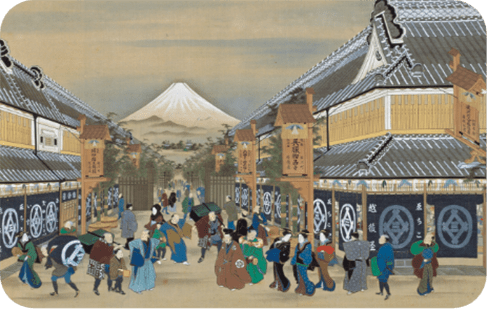 "Echigo-ya" Drapery Store in the Edo Era.
©公益財団法人三井文庫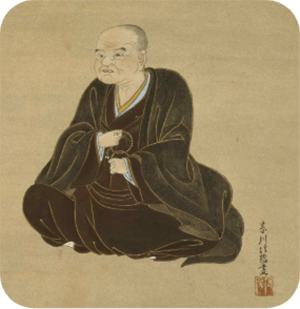 Takatoshi Mitsui
©公益財団法人三井文庫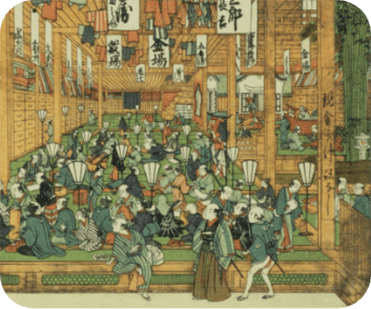 Echigoya - The name "Echigoya" was publicised by means of "flyers" and branded loan umbrellas. ©公益財団法人三井文庫
The Mitsui conglomerate began as a shop dealing in kimono fabrics called "Echigoya". It was opened in 1673 by Takatoshi Mitsui, a merchant in Edo (now Tokyo). 
With the aim of accommodating its customers' needs, Echigoya introduced many innovative business practices. These included adopting over-the-counter-sales and the cash-and-carry system which were unheard of in Japan at the time. Furthermore, Mitsui used flyers and umbrellas printed with the shop's name to publicise his business.
Mitsui also focused on customer-centric business management and brand strategy, and sought to boost employee motivation and satisfaction through personality-oriented performance evaluations. These pioneering approaches laid the foundation for Mitsui's subsequent success and prosperity.
The origins of Sumitomo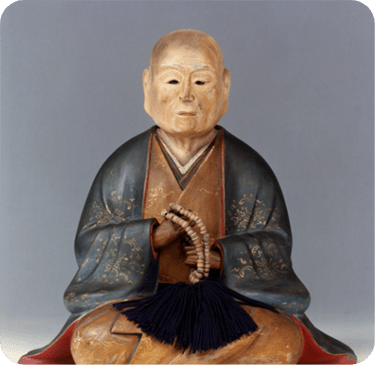 Masatomo Sumitomo 
© 住友史料館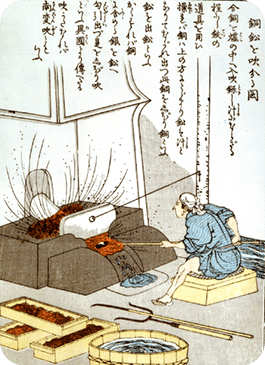 Sumitomo prospered through diversification beyond copper into such commodities as yarns, fabrics, sugar and medicine.
© 住友史料館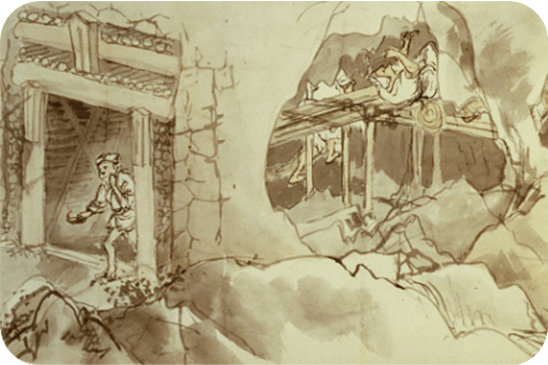 A shaft at the Besshi copper mine
© 住友史料館
The history of Sumitomo began in the 17th century when Masatomo Sumitomo opened a book and medicine shop in Kyoto. Sumitomo gradually diversified into copper mining and trading, banking and heavy industry. 
In 1690, Sumitomo discovered the Besshi Copper Mine in Ehime Prefecture which turned out to be one of the largest copper mines in the world. This major discovery contributed significantly to Japan's economic development. However, the mining operations also impacted the environment. To help reduce this, Sumitomo planted more than one million trees and even relocated the copper refinery to an uninhabited island.
Sumitomo's approach of contributing to the development of national and regional economies while also addressing environmental issues sowed the seeds for our corporate social responsibility initiatives of today.